Do not make a fuss about composing Valentine's Day messages for your amazing Grandfathers because below is a list of beautifully crafted words that is enough to add more glamour to the recipient's life and help raise their level of excitement for the new season.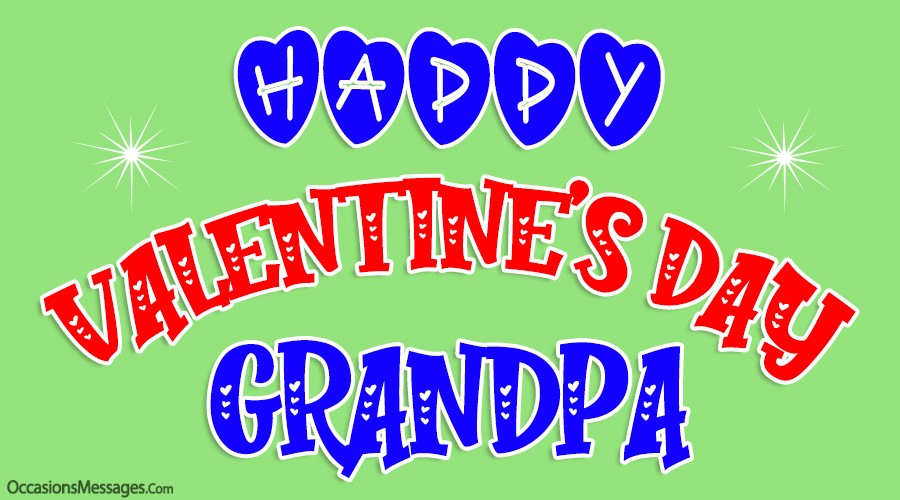 It will be an act of selfishness to have the fun of a lifetime without carrying our grandfather's along, so, select some of the best messages and hit the send button.
Happy Valentine's Day Wishes for Grandfather
My heart is deeply grateful for the opportunity to have a wonderful Grandpa in you; today's Valentine's Day is our special day to be together.
There is not a thing in heaven and on earth that can keep me away from wishing my lovely Grandpa a Happy Valentine's Day celebration.
I have the most beautiful memories of my childhood. Thanks to you my dear grandfather, because you always had time to make me feel very good. Happy Valentine's Day.
Forever you will be the man I admire most and my great example of life. Happy Valentine's Day Grandpa.
As the years go by, you become more gray-haired, but it also increases your wisdom and that is why I will always feel great respect and love for you. Happy Valentine's Day Grandpa.
Happy Valentine's Day to the dearest grandfather ever, you will always have me by your side because I know that you care a lot about me.
Valentine's Day is not for only younger adults, grandpas are also critical participants of the day, so I expect you to be a front-runner.
Grandpa, as long as heaven does not change the form, and the earth remains a living place for humans, I will never love you lesser than before.
You are a great man and that is why I feel so proud of you, my beloved grandfather. Happy Valentine's Day.
Dear Grandpa, you know that I love you very much and regardless of whether you are near or far from me, I would cherish you forever. Happy Valentine's Day.
Age is not a barrier not to enjoy Valentine's Day, spend the day the best way you think and wake up as an agile happier Grandpa.
I thank God because you are a great person, and I am very happy for the great privilege of being your grandson. Happy Valentine's Day.
Dear grandfather, I hope God blesses you with good health and a lot of life so that we can have more joyful valentine's moments together.
I am relaxed about a lot of things in my life but not with my Grandpa. I owe him thoughts that make him happy like a Happy Valentine's Day message.
Everyone that matters in my life enjoys a special day of praise, but as my Grandpa, there are no special days because every day is equally important to us.
Grandfather, may you find a reason to enjoy the day and be happier than the previous seasons of your life. I love you so dearly.
I will always feel a very special affection for you because you have always given me a lot of love. Happy Valentine's Day Grandfather.
Nothing is the same if I'm not by your side, dear grandfather. I promise you that on my next vacation, I will spend beautiful moments by your side. Happy Valentine's Day.
The beginning of wisdom is to identify and celebrate a selfless hero like my grandfather on Valentine's Day. You are undoubtedly the best.
You can doubt some things about me but not the love that I have for my amazing Grandpa on Valentine's Day. I hope you know that.
I know for sure that you made sacrifices to get to this stage in life so, Grandpa, it is a fair trade if I love you above others on Valentine's Day.
Grandpa, may every minute of the Valentine season be a landmark moment in your life. Happiness and celebration is the order of the day. Happy Valentine's.
Happy Valentine's Day. I send you a very big hug, grandfather, and I want you to know that there isn't a single day when I don't think about you.
Dear Grandpa. I feel very grateful to you because you have given me some of the most valuable lessons of life. Happy Valentine's Day.
I am gradually becoming like you Grandpa and finally understanding how to live the right way. Thank you for your wise teachings. I love you.
People can celebrate Valentine's Day as they wish, but I will celebrate mine with the amazing grandfather in the whole full world. Happy Valentine's Day.
Hello Grandpa, it is another Valentine's Day, so I expect you to get your youthful swag on and have fun like the world will come to an end today.
I had the best Valentine's Day gift many years ago when you became my Grandpa, so I will sit back and thank God for the best lifetime gift.
Do not think that I will not contact my dear grandfather on Valentine's Day like previous times, Grandpa; I would not be able to sleep if I do not.
I feel so sorry for people that do not have a Grandpa and those that their Grandpa is not as lovely as mine on Valentine's Day.
Since I cannot repay numerous good deeds towards me, I will at least celebrate you on Valentine's Day. What a lovely Grandpa I have to myself.
A text from me to you on Valentine's Day is a reaffirmation of my love for you. Ensure to make the day productive and be the happiest Grandpa of the day.
As one of the most significant people in my life, you deserve at least appreciation in this lovely season. Happy Valentine's Day to you, my dear grandfather.
My Grandpa is the best that heaven has to offer; therefore, only good things will come your way this season and the ones that follow.
Thank you for giving me a fantastic parent who loves and cares for me just as you are to your children and everyone around you. Happy Valentine's Day grandpa.
Celebrate Valentine's Day with finesse and style just as you always do. Grandma is so lucky to have you as a husband for so long.
---
You May Also Like:
Amazing Happy Valentine's Day Wishes for all my Family
Best Ways to Say Happy Valentine's Day to you Father
---