Valentine's Day is truly a memorable day for those who love each other, it is a day for not only couples but for the secret admirers, the crushes and all the people you find add value to your life, even the stalker #just kidding. Valentines should be celebrated by not only physical gifts but by the messages written by lovers to a lover from the deepest part of their heart.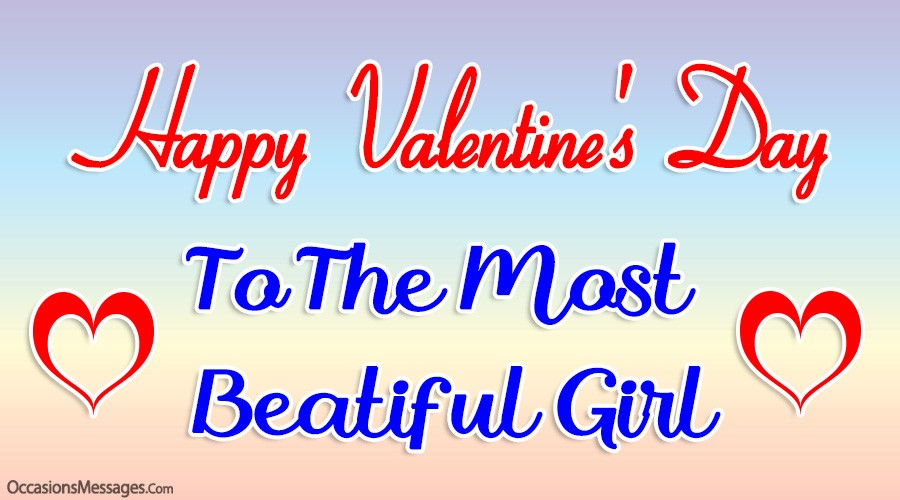 If you find you have a crush on a girl but don't really know the best way to express your feelings, we've got you covered, use one of these valentines wishes to your girl crush and maybe you might end up hitting it off and find you have something in common, maybe even finally make her your girl.
Valentine's Day Messages for Female Crush
I didn't know love is sweet because I never tasted it. I didn't know love is alcoholic because I never drank it. But now I feel love. Please be my Valentine and not a crush.
I've been crushing on you and it has been a painful experience that you didn't bother to notice. Even if you'll kill me I'll still ask you to be my valentine for life.
I'm seriously crushing on you. I'm deeply in love with you girl. Will you give me a chance to prove my love? And you'll have your best days forever. Happy Valentine's Day crush girl.
Having you as a friend was just a start but each day I find myself more attracted to you. I have a crush on you my girl, may this valentines be the start of something more.
I dream of you, I dream of us, and I know these feelings aren't going away; I can be the best boyfriend yet. Just be my girlfriend dear crush that would really make my valentine!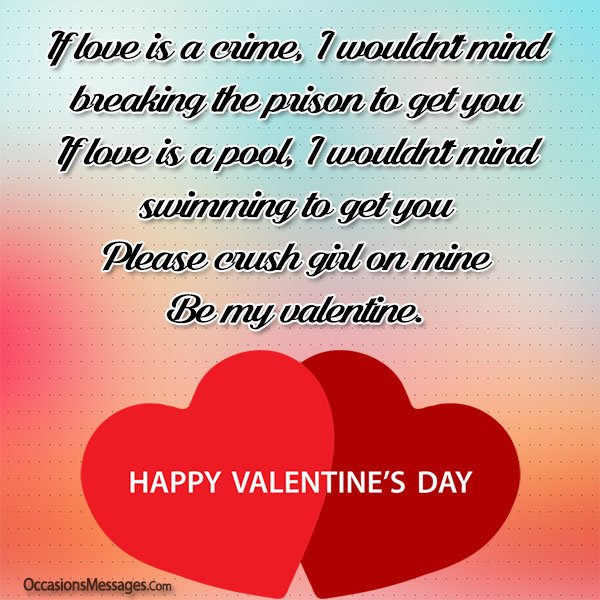 Love makes a soul but it's breaking mine. Love gives happiness but it's giving me sadness. I love you but you see me as a mere crush. Happy Valentine's Day girl. I'll wait for you.
If love is a crime, I wouldn't mind breaking the prison to get you. If love is a pool, I wouldn't mind swimming to get you. Please crush girl on mine. Be my valentine.
I keep wallowing in deep thoughts. I keep seeking refuge in you. But you keep breaking my heart by just ignoring me. Make my valentine's day better and I'll give you my love forever.
They tell me it's impossible to be with a girl like you, I have been crushing on you for so long and maybe today I'll finally let you know how I feel. Lovely valentine's sweetie.
The world moves round and so do the day but my crush on you never fades. Happy valentines my girl crush you are perfect in each and every way.
What's life without you by my side? What's Valentine's Day without you beside me? I can only be me if you accept to be with me on this day. Happy Valentine's Day my special being.
Baby, I'm crushing on you. Look deeply into my face and you'll see I'm dying of love. Please, love me back and let's enjoy our valentine's day together like it's made in heaven.
I want to leave the crushing zone. I want to hold your hands and tell you stories. I want to make this feeling of love real to you. Today is Valentine's Day, let my dreams come true.
I would have written the letters we see on movies (will you be my girlfriend? (Yes) (No)) But that's too cliché, hope to be more than just a friend this valentine!
Valentines really brings something out of people, I guess it's the atmosphere, here goes, I have a crush on you girl and hope you'll be my valentine today, please say yes.
I've been crushed by love because I've been crushing on you. For nights, I couldn't sleep just because of you. I'll get a heart attack if you refuse to be my valentine today.
If dying for you will show my love, I'll call friends to die with me. If singing will show my love, I'll gather birds to sing for you. I am your crush, you're my valentine.
It's Valentine's Day today. Oh I'm loving today, and I'm asking my longtime crush out. I hope she'll give yes as an answer. And that crush is you. Will you be my Valentine?
I won't force it but I won't hide it anymore either, I have a crush on you and I would really love to explore it more, consider it, happy valentine's darling beauty.
Saying you are beautiful is an understatement, you are an angel and I'd love a chance to be under you wing my crush. Lovely valentine!
I've been carried away by the rivers of love; I hope I'll survive it. There's only one person that can save me. It's you. I'm crushing on you. Please be my Valentine and safe me.
It's a joyful day and I want to say Happy Valentine's day to everyone in the world. But especially a happy valentine's day to my long-time crush. I hope she'll consider me today.
I've been a fool for a while. But I think it's worth it for the girl you love. Please, let me leave the crush zone and be in the love zone. Happy Valentine.
It's just like for now, I really like you my crush, you are the simplest definition of beauty and I hope today, you'll give me a chance to be your valentine.
Even though just a few words pass between us, I believe if we actually get together we can make unforgettable memories gorgeous. Happy valentines!
Everybody celebrate Valentine's Day in a happy mood but mine had always been in a sad mood. I hope it won't be like that this day. I love you crush. Be my Valentine.
I've been a mad man. Your love is making me go crazy. I hope I can help not to crush on you again but it's not easy for me. Save me and be my Valentine.
A world without you is a world I wouldn't want to exist in my beautiful crush; I like you and hope you can be my valentine so I can show you the sweeter side of love.
Roses are red, violets are blue, I have a girlfriend as sweet as you. Too bad you don't know it yet. Wishing you a hearty valentine my beautiful crush.
What I feel for you is nothing I have ever felt for anyone else, you are the greatest part of the day my damsel. Wish you'll be my valentine!
I keep showering you my love but you keep ignoring me. The power of love is enough to build a soul. I love you and I mean it. Happy Valentine's Day to a special being.
Today may mark the rest of our lives my pretty crush, you are one I want to grow old with. Hope to make this an unforgettable valentine for you.
You are better than the best my stunning crush, you make the days better and all I ever want to do is love, hold and keep you as my valentine forever.
If there's no other day to express my love then I'll not let today go without making efficient use of it. It's lover's day and I'll love to say I love you so much.
You are more than enough reason for me to smile. You're enough reason for me to live. You're enough reason for me to love. Happy Valentine's Day to my dear and super crush.
I believe I have a crush on my soul mate, you are my girl friend for now but I hope this valentine, I can close the gap and make you my exclusive girlfriend!
The world has been falling. Nations have been worrying. I have been wondering why I still remain a crush. Today is Valentine's Day. I'll try my luck again.
I lose control whenever you are around crush, you are beautiful and there's nothing I would want more than to be with you this valentine. Please be mine.
They say crushes are silly, but they haven't met an angel as beautiful as you, I hope to make you my girlfriend someday but until then enjoy your valentine beautiful.
Valentine doesn't have to be just for a day with me my sweetheart, you are my crush and I know I'd make a great partner for you. Happy valentines!
The way you walk and the way you flip your hair backwards are enough to drive me insane. I may just be a friend for now, but I am not giving up on you, have an awesome valentine.
I think of you on every occasion and in everything I do, you are a masterpiece and the most amazing girl I know, I hope to make your valentine magical.
You have been on my mind from the moment we met, I may not know you well but I know I am in love with an amazing human being. Have an awesome valentine.
I promise to be the happy ever after you are always hoping for, just be my valentine please.
You are a beautiful woman, an intelligent soul and the one I will forever cherish. I hope to spend this and every valentine with you for you are a crush I can't get over.
This valentine, I find more reasons to celebrat than the last. I hope you have an awesome time as you celebrate this and every second of the day dear crush. I like you a lot.
Sharing valentine with you will be a dream-come-true, I would finally spend time alone with my crush and know her for the amazing person she is. Please say yes.
I can't afford to buy you diamond rings and expensive jewels but I have a heart clean and pure and it beats only for you. Please be my valentine dear crush.
You are the one I want to get to know and hopefully share valentines with, you have not given me a lot but what you give, I'll gladly take. Hearty valentine dear crush.
It is yet another Valentine's Day; nevertheless, my love for you is still intact only if you would give me a chance to prove that I am the best man for you.
I will be the man in your life to show you the purest of love you have ever witnessed. Happy Valentine's Day.
---
You May Also Like:
Romantic Valentine Day Wishes and Cards for Crush
Happy Valentines Day Poems, Saying and Wishes for Girlfriend

Happy Valentine's Day Wife from the Heart – Sweetest Messages for Her
---