For a daughter to receive a dedication of love from her parents is a gesture of affection that will remain forever in her heart. From the time of birth, daughters never fail to maintain an excellent grip on their parents' heartstrings.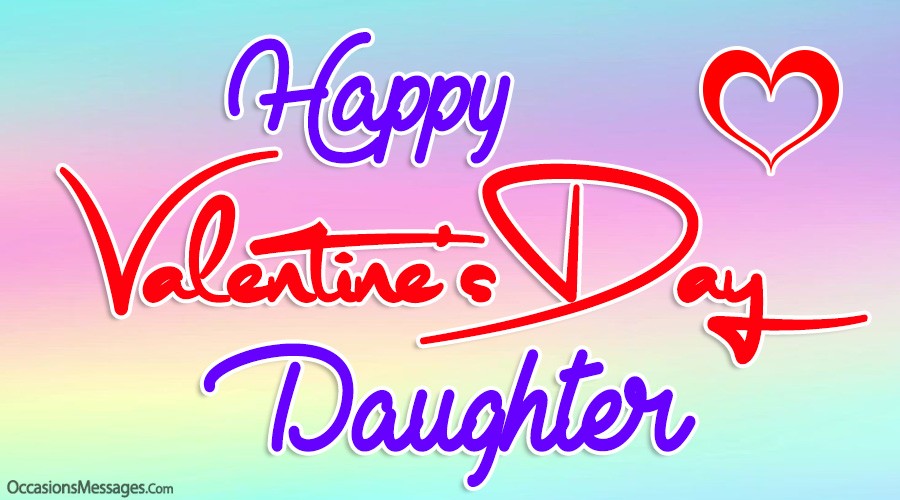 Thus, if you can't find the right words to write a dedication to your daughter, then you can take inspiration from these ready-made Valentine's Day messages so as to let her know how much you care about her.
Adorable Valentine's Day Wishes for Daughter
Dearest daughter, you are my world, my life and the reason I am such an accomplished father. Happy Valentine's Day my love!
One among the greatest things that happened to me in life is having you as a daughter. It was such a pleasure for me to see you develop your own personality. Happy Valentine's Day love!
Daughter, I know I sometimes make mistakes, but my heart always has the best intentions, because I love you more than anything. Happy Valentine's Day.
You are the damsel of our household, so I decided to celebrate you, especially on Valentine's Day with an early morning text.
As your parent, I watched you grow to be a courageous young woman that can compete at the highest level; therefore, you remain my Valentine.
I may appear tough on the outside, but just think of the love I have for you, daughter, that already thrills my entire life. Happy Valentine's Day.
Joy, serenity, love … these are just some of the gifts you give me, ever since I saw you. On this day dedicated to love, my thoughts go to you, my daughter. Happy Valentine's Day.
What better time to wish you all the best things in the world! I love you daughter, Happy Valentine's Day!
The Lord sent you to me as a gift, and since then, I have never stopped loving you. Happy Valentine's Day sweet!
Opinions are subjective, so I will stick to mine by identifying you as the most beautiful daughter on Valentine's Day.
Endeavor always to give love a chance because, without it, life can be somewhat frustrating. I love you, my daughter.
Dearest daughter, may this day of celebration be just one of the many wonderful moments that we will spend together. I love you. Happy Valentine's Day.
The luckiest woman in the world is your mom. You are the witness that true love exists, my child. Happy Valentine's Day.
Love is what a parent feels for his daughter. Infinite is the adjective that best characterizes it. I will love you forever and ever more. Happy Valentine's Day, my daughter.
Parents can sacrifice the world for a child, but it takes the child to acknowledge their efforts. Thanks for being a good girl. Happy Valentine.
I love Valentine's Day because it offers us the chance to appreciate the people close to us like a precious daughter.
With your light, you have colored my life; today, more than the other days, I wish you a life full of love. Happy Valentine's Day daughter. Daddy loves you.
Celebrating this day together is the most beautiful and romantic gift I could receive on Valentine's Day as a parent. Best wishes, little big woman.
You are the most beautiful Valentine's gift, my love. Dad thanks the Lord every day for having you in his life. Happy Valentine's Day.
You were a perfect kid and then became a better woman; as your parent, I can foresee you being the best. Happy Valentines.
The day is bright and beautiful, just like my lovely daughter on Valentine's Day. Shine your light bright enough for all men to see.
Our connection is inseparable because you justified beyond a reasonable doubt that you are a daughter worth loving till the end of time.
Parents always want their first child to be a boy, but, my girl, I wanted to have you. A beautiful girl with lovely eyes, and a tender smile. Happy Valentine's Day dear.
I love being your father, my love, not only because you are the faithful copy of the woman I love most in life, your mother, but because you are a person with a sensitive heart. Happy Valentine's Day.
Beware of other people telling you that they love you the most on Valentine's Day; everyone knows that parents love supersedes others.
Older adults like myself are better judges, and I can only foresee you having happy motherhood because you always try to make others smile.
There is no better feeling than being at peace with a daughter on Valentine's Day. Let us love and appreciate each other forever.
Daughter, you are already a woman with a husband and children, but you will always be the princess of my eyes. I love you daughter.
Dearest daughter, no matter where you go or what you do, I will always be beside you to encourage you and make you live your lovely dreams. Happy Valentine's Day sweet.
Today, when I consider what you have become, I feel a lot of pride. That's why I wanted to enjoy Valentine's Day to tell you that I love you. Happy Valentine's Day.
Happy Valentine's Day, daughter. You remain a fundamental reason for my gladness today. Thanks for being a good and responsible girl.
There are many people in my life; nevertheless, your daughterly contribution to the family's happiness makes you highly rated. Happy Valentine.
---
You May Also Like:
Happy Valentine's Day Messages In Advance
The Best Funny Valentine Messages and Wishes
---