happy Valentine's boy crush. I sometimes remember the crushes I've had, and I wish I did more than just feel it, I wish I'd spoken up and maybe I would have one of my crushes beside me. Crushes are the little blessing that show you are human and that you feel something for someone else not just your family.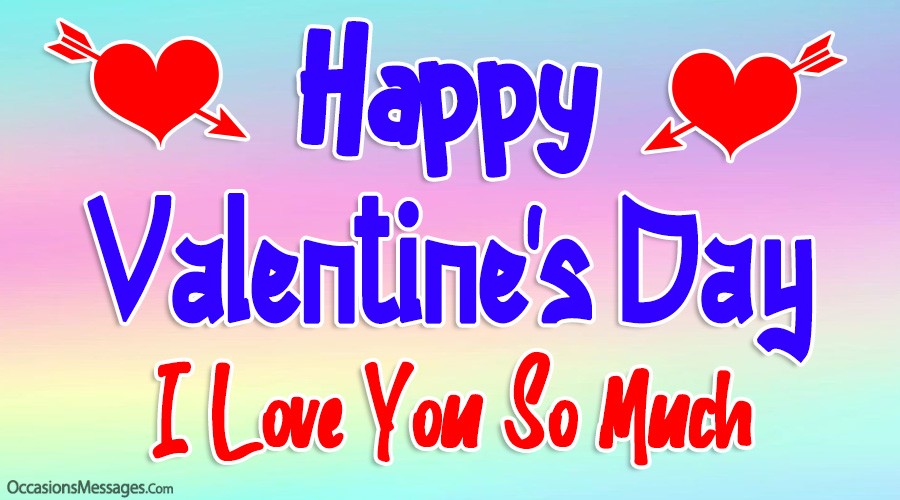 As a girl, speaking up to your crush may sometimes be hard, but let me assure you, it's the 21st century and no one really cares anymore. Just put some courage for I have some words that will make your crush notice you. Send your boy crush one of these beautiful Valentine's Day messages and maybe, he will be more than just a friend to you.
Valentine's Day Messages for Male Crush
Since the first time I saw you, I felt like I'd known you all my life. I have a crush on you boy and I hope this will make your valentines.
You are the cutest, most adorable man I know and I can't help but fall for you every time we meet. I have a crush on you and would love to be your valentine!
A friend's zone is far better than being in a crush zone. I've been crushing for the past years and you didn't even notice. This Valentine's Day will be the best if I have you.
You know that feeling when you love a man who doesn't even care about you. I've been feeling broken and rejected. You can only make me happy by accepting my Val proposal. Happy Valentine's Day.
Valentines isn't for lovers only, it's also for potential lovers and I believe you and I have what it takes to make this day memorable for us. Happy valentines please be my man!
Happy valentines my crush, you are the reason smiling isn't so hard. I hope to make you my boyfriend soon, that is, if you want me too.
I'll travel to the moon with you. I'll live in the underground with you. I love you to the moon and back. A valentine's wish can never describe my love for you.
The love of you is the beginning of my folly. Since I fell in love with you, I couldn't think straight. I couldn't sleep well. I couldn't eat maturely. Hey, let me be your valentine.
Hey crush boy, it's either you show me that you crush on me or I allow a truck of love to crush on you. It's Valentine's Day; let's get some fun love of my life.
Every time I am around your masculine body I can't help but wonder how it would feel to be held by you. Hoping to be your valentines my crush!
From your geeky nature to the way you hold my hand when we cross the road, I can't help but have a huge crush on you boy, I hope this valentine will be unforgettable.
The happiness of every girl is having a loving and caring boy. The happiness of a boy is having a pretty and lovely girl. We've got that. We should be each other's valentine.
Love is like an alcohol. It drives you crazy yet sharp. It keeps you strong yet weakens you. I think I'm crazy in love with you. Be mine. Happy Valentine's Day crush.
When you asked me to be your valentine. You know, I couldn't believe it. It's a dream come true. Even in the next world, I'll always love to be yours. Happy Valentine's Day crush boy.
You are not a boy, you are a man I would be happy to call mine someday. Happy valentines just thought you should know I have a huge crush on you!
There's nothing like a valentine's day without you. But with you, every day is a valentine's day. Happy Valentine's Day crush.
You are the piece of heaven I can't afford to lose; I hope to always be close so I can tell you how much you mean to me. I have a huge crush on you handsome, happy valentines!
Will you be mine? Because I'll be yours forever. I'm sick, and you're the antidote. I'm weak and you're my strength. It's lover's day, make me feel and fall in love. Happy Valentine's Day crush.
Falling in love is like falling out of life. Baby, I'm in love but don't want to fall out of life. You're the only superman that can rescue me. Will you rescue me on this Valentine's Day?
You are more of a man than any other man I know and that is why I have a crush on you. Please be my valentine, I will buy you roses!
I want to be the girl to hold you down for life my crush, you are not only handsome, you are also a man worth having close. Happy Valentine's Day!
Your smiles give me enough reason to fall deeper in love with you. Your words of wisdom are enough to build my life. Your selflessness is the world's best. Happy Valentine's Day crush boy.
If you refuse to come to me, I'll be brave enough to come to you. I've been having sleepless nights and restless days. I'll be bold enough this time to say. I love you.
If loving you will be the last thing I'll do, then I'll love you at this moment and die being fulfilled and accomplished. This shows how much I love you. Happy Valentine's Day crush boy.
I have known you as my friend most of my life and I have been having a crush on you since the time I realized you are a man I'd love to grow old beside. Happy valentine!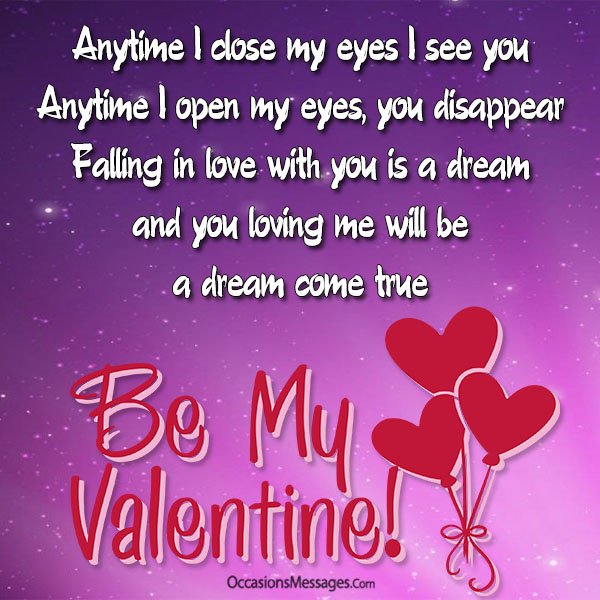 Words don't mean much if they are not from the heart, you are my crush and I know I will never find a replacement for such handsomeness. Happy valentine!
I need you more than a crush. I need you more than a friend. I need you always beside me. I need you now and forever beside me. Enjoy today in the best possible way.
I'm your long-time crush who has been crushed by your love. It's so difficult to live without you. Damn! I'm in love. Happy Valentine's Day. Please take me out, I'll go anywhere with you.
I thought love makes one and not break one. I thought love gives one happiness and not sadness. Hey! Your love is breaking me and making me sad. Help me by loving me.
Sometimes I wish time would freeze just for you and me, please be my man and make time freeze in the perfect moments I know we will have. Happy valentines!
I saw myself walking in the darkest night in my dreams. But I saw one of the strongest knights who came to my rescue. Guess who it was. It was you. You're my rescue. Happy Valentine's Day.
Sinking inside the oceans of love. I don't mind drowning in the ocean over and over again for your sake. Let me be your valentine and I'll drown in you.
Every valentine's days are the saddest. I feel dejected because a long-time crush is spending his time with another woman. I hate valentine. Except it's with you. Happy valentines crush boy
Anytime I close my eyes, I see you. Anytime I open my eyes, you disappear. Falling in love with you is a dream and you loving me will be a dream come true. Happy valentines my love.
You are a great man and I can't help but wonder if I am enough to be the woman to stand behind such awesomeness. I have a crush on you, happy valentines.
Happy valentines to my handsome crush, you always make my day from the way you say hi. Hope to be more than just a person you say hi to.
You protect me when no one else can, and you smile at me in the best way I know you can, wishing you a lovely valentine my gorgeous man crush.
They say I should wait till you make the first move dear crush, but boy, you are taking too damn long, I want you to be my valentine, I promise I'll make it worthwhile handsome.
It takes two to tangle crush, how about you come tangle with me? I'll be the girl of your dreams, all you have to do is say yes. I really want to spend valentines with you!
You may not have diamonds, a lot of cash or notice me, but I promise you'll have the best time if you take me as your valentine dear crush. I want you handsome.
You have strong arms and a smile that makes my heart skip a beat. Have an amazing time as you celebrate valentine, I have this huge crush on you.
I hope you now know I can't get enough of you, I think you are an awesome guy and I would love to take you out this valentine, if you'd let me anyway.
I love you in ways I can never explain, our love may be forbidden, but that's what makes it sweetest, I hope to spend valentine night in your arms watching you sleep.
You make it so hard to be just a friend to you, you listen, you care and most importantly, you are always there when I need you. I hope you say yes to being my valentine today dear crush.
Having a crush on you has been a journey that I can never regret, you are amazing and I enjoy your company always. I hope you have a nice valentine with the ones you love.
I love that you are handsome and that you have an awesome bike that I would love to ride on with you someday. Have an amazing valentine and I hope everything goes well for you.
I have never been a courageous person, but then again, I have never been someone you've noticed. I hope you know I am deeply attracted to you and that I would love to spend this valentine with you.
I am not afraid to tell you how I feel anymore. I've been crushing on you and I hope that you'll give me a chance to be your valentine today.
I may never be good enough or perfect, I just hope you know in my eyes, you are good enough to turn my world upside down and to give me thoughts that are insane. Have an epic valentine.
What they say about the butterflies in a girl's tummy is so true, you sweep me off my feet and make my stomach rumble. It is undoubtedly loving.
Nobody ever made me feel this fantastic way, only you will make me better by being my boyfriend for Valentine's Day.
---
You May Also Like:
Cute and Sweet 200 Happy Valentine's Messages for your Crush
Romantic Valentine's Day Messages, Cards and Wishes for Boyfriend
Happy Valentine's Messages for Him: Sweet Wishes for Husband
---