It will only be appropriate to remember our lovely grandmothers before the Valentine's Day runs to an end. Deem it as Valentine's necessity to at least send a charming message of appreciation to them so that they can also be a part of the beautiful memories of the day.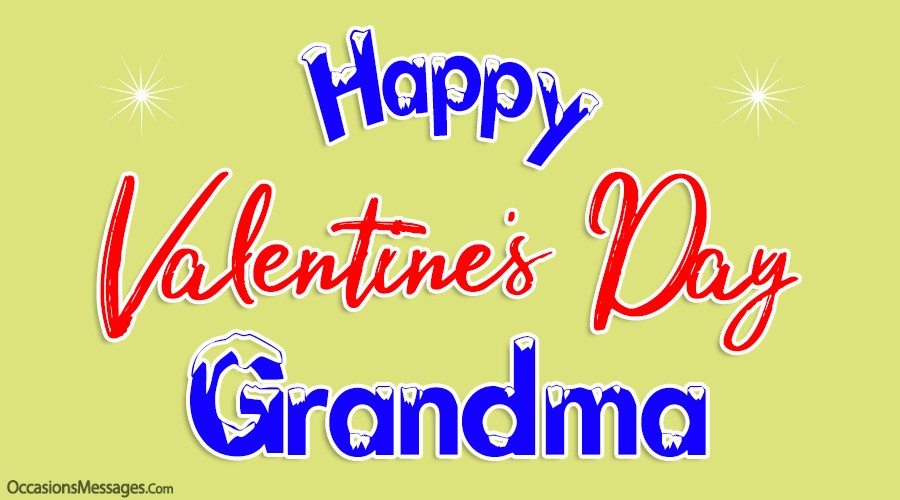 Feel free to send one or more amazing words from our archive that will most likely put a smile on her lovely face.
Happy Valentine's Day Wishes for Grandmother
You still as beautiful as a young girl despite being my grandma; now, I know that the offspring's beauty is from you. Have a wonderful Valentine's Day.
The hugs and kisses that I sent should be enough to last my lovely Grandma for the day, and if not, I will post another truckload of affections.
Dear Grandma, you always recharge my joy, my spirit, and my hope with your love! Happy Valentine's Day.
From your smile that conveys a peace and serenity unique to your incredible way of seeing the world, everything in your way of life is wonderful. Happy Valentine's Day Grandma.
Grandma, enjoy this day a lot because you deserve it. Receive my words that are filled with love and gratitude. Happy Valentine's Day.
I hope my lovely message is one of the best that you will receive in this beautiful Valentine season because I want to impress my adorable grandmother.
There are many more Valentine's Day celebrations before us, but I would not wait for another moment to show my grandma how much I love her.
Grandma, I made Valentine's Day toast this morning in your honor for long life and sound health to enjoy many more Valentine's Day celebrations with me.
Being part of the family you built is indescribable. This Valentine's Day, I want to thank you for everything. Be happy, grandma! I adore you!
Dear Grandma. You are simply a second mother; a friend I can count on for anything. There are no words that can perfectly describe the good your heart causes me. Happy Valentine's Day.
Precious as a treasure of inestimable value, affectionate like no other in the world, I wish you a happy valentine's day dear Grandma.
Everyone that knows us expects another beautiful Valentine's Day from us, so Grandma let us show them that we can do better than before.
Sending you a Valentine's Day message is not enough for me to show my grandma the affection that she deserves. Wait for my big secret surprise.
No matter how you choose to celebrate the Valentine season with me, know that it will mean more than meeting the magnificent Queen Elizabeth.
Grandma, your wrinkles are your past and my present. I want to thank you for everything you have done for me and for the great love you give me every day. Happy Valentine's Day.
Happy Valentine's Day Grandma, you always told me that the best gift was health, but now I realize that the best gift is to have had a grandmother like you.
How did you manage to take over my heart entirely on Valentine's Day, it is because you are my grandma and a very diehard supporter.
Love comes in different dimensions, but yours is the best, I feel so secure and confident whenever I remember that I have the best Grandma.
I will like to make my love for you visible enough to everyone that cares to notice. I want us to have a very great Valentine's Day as a Grandma and Grandchild.
A grandmother like you is not achieved in a thousand lives, fortunate I am to have you and enjoy your company today. Happy Valentine's Day.
My beautiful grandmother, you have always been with me in the most important moments of my life and for that I want to thank you. Happy Valentine's Day.
Dear Grandma, thank you for your kisses, for your rich hugs and for taking care of me with a lot of love. Happy Valentine's Day.
Special seasons like Valentine Day come with a message, luckily today is about unconditional love, and my grandma is the perfect example of the day's message.
Money can buy expensive gifts but not the unconditional love of my Grandma. People like you deserve all the happiness in this world. Happy Valentine's Day.
Grandma, anytime you speak, words of wisdom fly out, so I decided to dedicate the Valentine's Day to you, so I can be a wiser person by the end of the day.
To forget my beautiful grandma on Valentine's Day is to forget my source of existence; therefore, I would not let the day pass without saying Love You.
May the good God bless you abundantly above your most fabulous imagination on Valentine's Day for being my grandma and one of the best.
Boredom is forbidden today, so Grandma, get out of your comfort zone and do new things on Valentine for a change. Happy Valentine's Day.
Dear Grandma, together, we stand stronger as a family than when alone, so I promise to intensify our bond, starting from today's celebration of love.
Happy Valentine's Day to my grandmother and Valentine. Destiny joined us together, so we will enjoy every pleasant moment without leaving each other behind.
I challenge you, Grandma, to have a spectacular Valentine's Day of unlimited fun and happiness because it is what you deserve after worrying so much about me.
The celebration of grandmothers with an impeccable personality is part of the reason for Valentine's Day, so you should be up and doing as the principal celebrant.
Nothing on earth or below the crust can stop me from saying a Happy Valentine's Day celebration to the best Grandma that heaven has for humanity.
Text cannot correctly describe your worth in my life; nevertheless, I believe I was able to show that I care. Happy Valentine's Day, Grandma.
Grandma, the love I have for you is taller than the mountain, deeper than the ocean and stretches to infinity. Happy Valentine's Day.
My grandma is my one actual Valentine, who always got my six even when everyone else forsakes me. You remain more important than food to me.
---
You May Also Like:
Happy Valentine's Day Messages and Cards for Everyone in Your Family
Happy Valentine's Day, Mom! Messages for the Best in the World
---