What a great day! But do you know: Valentine's Day is every day of the year, not only the day of Valentine's Day? Do you think she will wait 12 months to receive sweet words from you? If so, you're a dreamer! Prove your love to her every day shows her how much she means to you,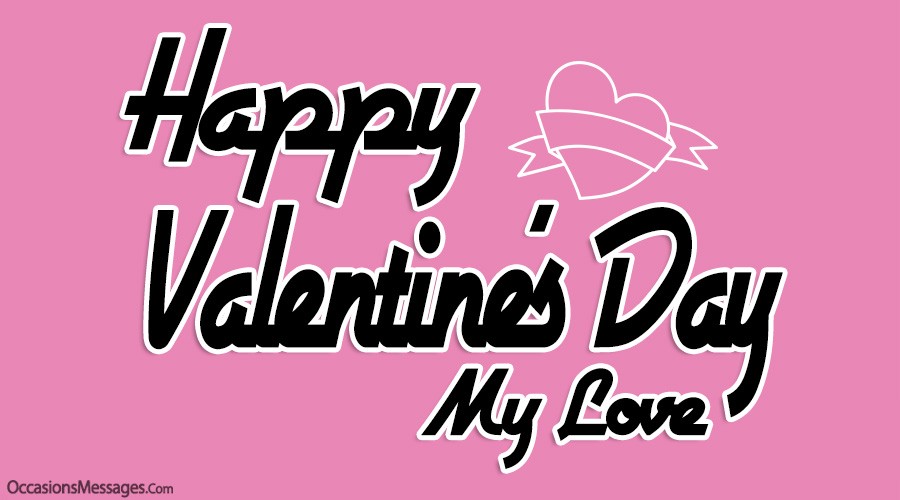 and how much you love her; and avoid waiting like most guys for inspiration, to buy her a banal bouquet of roses at the last moment, or worse. See some of these messages below, they may just give you the right words to go write her a beautifully romantic message or just send her one of them.
Happy Valentine's Day Love Messages
It's Valentine's Day and as I am neither Shakespeare nor Rimbaud, I can tell you one thing today. I love you.
Three rules that are binding on this day of Valentine's are: a very good restaurant, lounge music and the person you love in front of you. See you this evening to pay tribute to all lovers. I love you.
Although it is usually difficult for me to express my feelings towards you, I would like to take this special day to thank you for being the most gentle, most caring and most charming people I have ever met. I enjoy every day spent by your side.
On this day of lovers, I want to make you three promises, to always be there for you, to respect you and love you all my life. I love you and Happy Valentine's Day.
Valentine's Day is like a box of chocolates, you always know what you will find, but you must always prove your love to the person you love not just on Valentine's Day.
You have just received a SMS. Press 1 for a drink, Press 2 to a romantic restaurant, Press 3 for a film / a play, Press 4 for your valentine date. Happy Valentine's Day.
You are my life. You are my hope. You are my inspiration. You are everything to me. I love you. Happy Valentine's Day.
You know what baby? I miss you so much. I miss you every night, every day,and each morning I get up not close to you. Happy Valentine's Day.
I think we should get married because I can't stay without you. Happy Valentine's Day.
Love is thinking about someone else more times in a day than you think about yourself. Can you guess who I'm thinking about? It's you. Happy Valentine's Day.
I feel incomplete whenever you are not with me; I do not adequately function because of a void that only you can fill, I am lucky to have you as my Valentine.
I love you so much. I love you even more than I love myself. When I am with you I feel that I am the happiest person in the world. Happy Valentine's Day my love.
I have waited for you for eternity, now that you're found; I hope to enjoy you more than I have waited to have you. Happy Valentine's Day my angel. Let's enjoy the day.
My only wish is to enjoy the beautiful day of love under the warmth of thy hand and the breath of thy nose. That's how I know it'll be a good day. Happy Valentine's Day my life.
You are beautiful enough to spend all my life with; I love you more than myself. Happy Valentine's Day.
The world is beautiful in my eyes. Because I always see you in it.
I would not believe a prophet if he had told me that you would be the one to give me peace and happiness, but here we are celebrating Valentine as a lover.
I love you my heart, with you I'm not afraid, I love it when you make me smile, you're my heaven, I feel you're the woman of my life. I love you and Happy Valentine's Day.
Happy valentines handsome, I have a crush on you and I was hoping we could get together for a coffee maybe, I would love to spend a little valentine with you.
I put a hand on my chest, and I feel my heart beat faster when I see you. I love you so much.
I hope your love will not make me sick that I won't ever recover, but if it does, I know you'll be right by my side until my last breath. Happy Valentine's Day my one.
Of all the songs in the whole world, the only ones I want to sing are the ones that make me remember the day our love came to existence. Happy Valentine's Day my dear girl.
Rivers, seas and oceans, can't stop my love. You're the only charming prince, I dream about you every day and night.
You are in my heart and you will always be, here or there, near or far, my love will be wherever you are. Happy Valentines.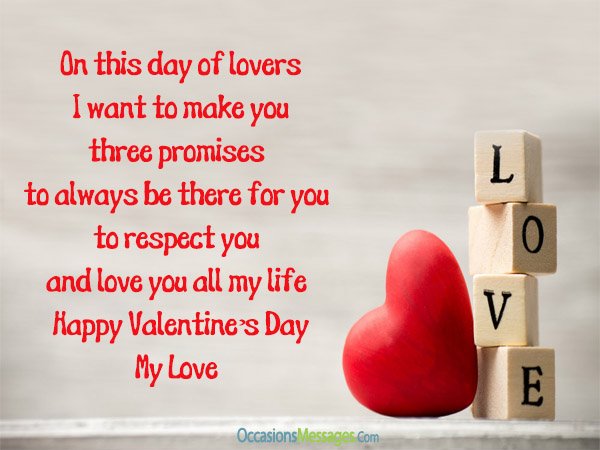 Honey, I want to tell you a hundred times a day that you are the person who matters most in my life. The most important day of my life was the day I met you. Happy Valentine Day my love.
My heart is too full of you. I love you and I will love you until the last day of my life.
This love message is the expression of my feelings for you. It tells you my love in a few words, sweet words of love, which I love you and I will always love you for eternity. My dear wife, you are the greatest gift that life can give me. Happy Valentine Day.
I think of you every day and even more today. I want to wish you a Happy Valentine my love.
Your beauty can make any king fall because whenever I see you, I see a charming queen to be, I hope I'll be your only standing king. Happy valentine's day my love, love you forever.
I used to think no man can reach the core of my heart, but there you sit, crowned as the king of my heart. I hope you'll reign there forever. Happy Valentine's Day adorable king.
I have only one wish, it is that I get to share my feelings with you. You are the most beautiful woman in my eyes.
Your voice is a filter of happiness, your joy is a sunbeam, your eyes are a tender ocean, and you're my only reason to live
I can stay three days without sleep, two days without eating, I can be alone for one day, I could stay for 1 hour without moving, I minute without breathing but never 1 second without loving you.
Lie down on your bed and stop breathing. You see how much air you lack? That's how I miss you. Happy Valentine's Day.
The love I feel for you is unconditional, I wouldn't have believed if someone told me I would be able to feel such emotion someday. Thanks for being in my life. Happy Valentine's Day Love of my life.
My heart, thanks to you, I finally found something that makes my heart beat faster, which makes me want to overcome all obstacles, all the limits imposed. Gives me happiness. Happy Valentine's Day.
The month of February is a nice month. Despite the cold that chills your blood, you're always there to warm my heart. Happy Valentine's Day my heart.
In Valentine, I do not care for flowers or chocolates. All I want is to be ready for you, that our love is changing every day and that our happiness is eternal. And not just on 14 February. I love you always.
I have loved only once on this earth. A beautiful lady with blue eyes. Happy Valentine my love.
I love you for many things. For your beautiful smile that touches me. For your soft hand on my shoulder. I am just in love with you because you are you. Happy Valentine's Day.
Happy Valentine to you my love. You're talented, charming, exciting, fun and simply stunning. I am really in love with you.
I declare my love for you in this message because I do not have the courage to tell you face to face. When I see your beauty I'm afraid, I can't find the words to tell you I love you. So I will send this message to tell you about my undying love for you.
I want to tell you I love everything about you. Your smile, your eyes, your little character, your good humor. Well. The list goes on. I hope the day will let you know that I love you. Happy Valentine's Day.
The man in my wildest dreams, who loves me even when I stray, words won't tell of my imaginations of you, but I know I'll die for you to live. Happy Valentine's Day my life.
I can never spend an hour without thinking of you, I love you.
Nothing can happen to you that will make you sad, this I promise, because I will never leave your side for once. You can count on me. Happy Valentine's Day my lovely angel.
Love doesn't start with Valentine's Day and it doesn't end with it but my love for you reaches another level on this great day of love. Happy Valentine's Day my forever lady.
I was ready to say yes to any man after all I've witnessed, but the best person came into my life. No other person but you my love. Happy Valentine's Day my love.
No one can know the depth of this love, but I know you love me and you know I do too. It's much more than all I ask for. Happy Valentine's Day my only and one.
My lost soul was redeemed by your love, I don't think any other person can do this for me, and that's why I'll love you forever. Happy Valentine's Day special person to me.
I often have stange feelings whenever I stay away from you, but these feelings often fade away every time I flee into your loving arms when we meet. Happy Valentine's Day my love and life.
In the assurance of your love, I find the delight for the rest for my life, and I hope it never ends. Happy Valentine's Day to the special one in my life.
I have trusted and loved before, but it never ended well, but I was open to love again, and loving you has proved me right. Happy Valentine's Day my found treasure.
Other men are left perturbed and dismayed at the appearance of you and me because they know I won't give them a chance to come near. I'm glad it's you. Happy valentine's day my love.
Statistics prove a healthy relationship transcends into a happier and more active person; many wonders about the source of my drive not knowing it is you. Happy Valentine, dear lover.
I made Valentine's Day wish for long life and prosperity on both of us; I cherish all the time we spend together and hope we will be together until the end of time.
All and sundry should emulate your manner of loving because It feels so amazing to have you as a lover, today's Valentine will be spectacular.
It would have been utterly impossible for me to derive the level of satisfaction I attain with you if I was with someone else. Today is our day because it's Valentine.
The love I have for you is absolute, which makes it incomprehensible just as Gods love for humanity, it is another Valentine day, and I am glad we will be spending it together.
I pray to wake up next to you every morning for the remaining period of my existence; I love you so much to imagine losing you to someone else.
Unlike others who choose to celebrate Valentine only once a ear, we live every day professing and growing stronger in love. I will always love and cherish you.
I marvel at the abundance of talent inherent in you; it seems that you are a distinct and exceptionally created being. Happy Valentine Day to my second half.
You have captivated and enchanted my heart; I hope you will forever stay in my heart, because I am ready to stay in yours. Happy Valentine's Day to my only one I love.
You are not like every natural person out there, to me you are a different breed, and I hope to never love another again but you. Happy Valentine's Day my girl.
With the assurance of you by my side, life is juicy, but without you, life is bitter and unlivable. Good to be by your side, always mine. Happy Valentine's Day to you. Let's have fun.
With you, I gained total freedom to live and express myself just as I am. I am happy to be right by you as the real me. It's so delightful. Happy Valentine's Day dear love.
Happy valentines my love, may this be an unforgettable experience for you as it has been for me dear.
Before you came to me, my confession has always been to someday come to know you, but today we're more than acquaintance, it delights me to love you. Happy Valentine's Day dear man.
You are the one I would love to spend each and every valentine with; I hope to make this the best valentines yet. I love you.
Being with you here is the best gift I could ever ask for as far as valentines is concerned, thank you for bringing joy in my life.
May this valentine be the best you've ever had, I love you so much and my heart beats fuller each time we meet. You are my special hello.
My heart wants to follow you wherever you go and my thoughts only revolve around you. Happy valentine's Day.
If it was necessary to kill to see you, I would become a murderer.
May the day be as lovely as you, may it be filled with love that radiates from my heart to yours, have a great valentine my love. I hope to see you smile.
You are all I need for valentine, your lovely smile and your warm touch gets me thinking of what more you could do. I wish you a love-filled valentine.
May I get the honor to show you another side of love this valentine? I promise to make your heart jump and to give you more reasons to love me. Be my valentine today love.
You are always on my mind and in my heart. I love you Happy Valentine's Day.
I know, I really do not have the habit of expressing my feelings but on this day of love I can only wish you a nice Valentine's Day and thank god that you are in my life and that you make me happy. I love you.
I feel sorry for those people who don't know your inner beauty. Hence, play with your feelings. You are a treasure they never deserved. Happy valentine's Day Diamond.
Life is not always beautiful without love and affection. Being alone hurt you internally. With love, you can move mountains. Have a pleasant Valentine.
You will be such a wonderful person after today's valentine. I see you as one to spend the rest of my life. Happy Valentine's Day.
Happy Valentine's Day love, as long as the heavens and earth remain, so will my love for you never dwindle until our dying day.
---
You May Also Like:
Happy Valentines Day Husband! Sweet Messages for Him
Happy Valentines Day Wife – Love Messages for My sweetheart
Funny Valentine's Day Messages – Funny Love Sayings
Cute Valentine's Day Messages for Girlfriend – Love Wishes for Her 
---