Being an aunty is the best feeling in the world, having the chance to spoil your little nephew and getting them what they want. The feeling of being loved and appreciated should be shown always, but during their birthdays, it is not a bad idea to do it a little more.
Sending a birthday messages goes a long way in reminding your little nephew that you will always be there for them no matter the case. Here are some birthday messages you can send to that special nephew reminding them of how much they mean to you.
Birthday Messages for Nephew from Aunt
It's your birthday little man, I can't believe how fast you are growing. I hope this birthday brings you a lot of joy and cheer that you are left with tears of gratitude.
If you were not in my life, I could not have gotten the honor of being called an aunt. I love you so much, my dear nephew. Wishing you a blast on your birthday.
You are like my own child and I can never turn my back on you. Be assured that whatever you need, whenever you need me, I am here for you always. Happy birthday to you!
The most valuable jewel around my neck is the arms of my nephew. I love you, my sweet child. Happy Birthday.
If life could give me an opportunity to choose my nephew, I would again choose you; you are such a blessing to us all. Happy birthday nephew, your aunt loves you.
Happy Birthday to my ever cute nephew, it's the time for blasting celebration. Lots of gifts, music, and children are here to enjoy your day.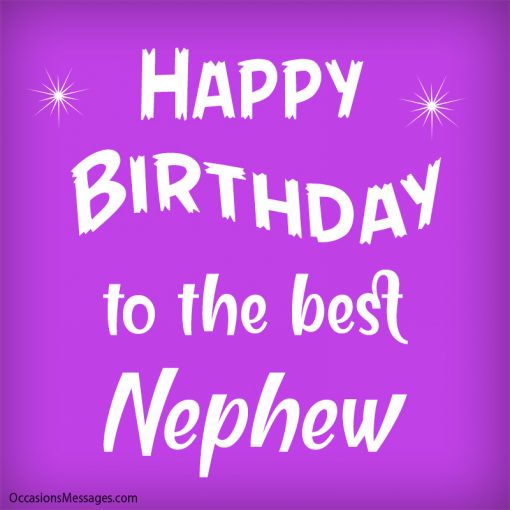 I'm glad to have a nephew like you and of course you are glad to have an aunt like me, we somehow have a lot in common. You are such a good lad. Happy Birthday to you.
I hope you'll be favored as you grow and as you chase your dream, may you accomplish more than you desire. Happy birthday nephew, your aunt loves you so much.
My little nephew is the most handsome man I have ever laid my eyes on. You are growing to be a young courageous and wonderful man and I hope you know that I will always be by your side.
To the best nephew in the world, there wouldn't have been a thing in the whole of the universe I wouldn't do for you, for you are a good boy. Happy birthday, from your aunt.
From your loving aunt to a lovely nephew, as you are a year older today, have fun all through and never give room for sadness.
God has granted me with very special things and you are one of them. Wish you the lifetime happiness and my unconditional love. Happy Birthday, my dear nephew.
Happy birthday my dear nephew, as time passes by may you realize that you always have the love and support of those nearest to you. Will love you always nephew.
It's a beautiful day to be celebrating another year with you, I may wish you a lot of things but for now, I just wish for many more of these.
The best of wishes, for the best nephew from the best aunt, never settle for anything less in life, always reach out to be the best.
Love is when your 1-year-old nephew says you 'aunt' with his broken sweet words. Have a wonderful happy birthday.
If I have never told you this, then read it here from me right now, you are important to me, and I love you very much. Just call on me when you need anything, I'll be there, happy birthday.
Each day with you is a blessing my dear nephew, each moment golden, I wish you a long life with good health and abundant wealth. I love you.
What can I surely say or do to make this day special for you my nephew? Happy birthday dearie, you will never lack so long as I am here with you.
The questions you ask to me are quite unique and sometimes I become speechless and think you are wise enough at this age.
Celebrating my nephew's birthday is the top most responsibility of his aunt. Wishing you lifetime of happiness and success. Happy birthday, dear.
Oh my God, you are looking very cool in your birthday outfit. Happy Birthday my darling nephew.
You have grown into a handsome boy and now that you are of age I take joy in a day like this I wish to see you soon.
Today is the day dedicated for you alone, whatever you want, just name it and you shall have it, your aunt assures you of that.
Happy birthday to the nephew I love so much, I will always be the aunt that cherish and care about you so much.
I can talk on and on about the things I would like you to do with your life, but I know it's wrong because you are a man of your own decision. This birthday, my wish for you is that you make smart choices.
You are like a son to me; you appreciate me and treat me more than just an aunty. Enjoy your birthday and all the good things life has to offer my dear.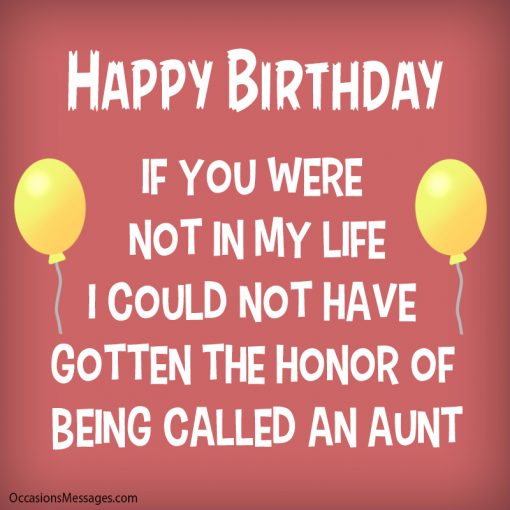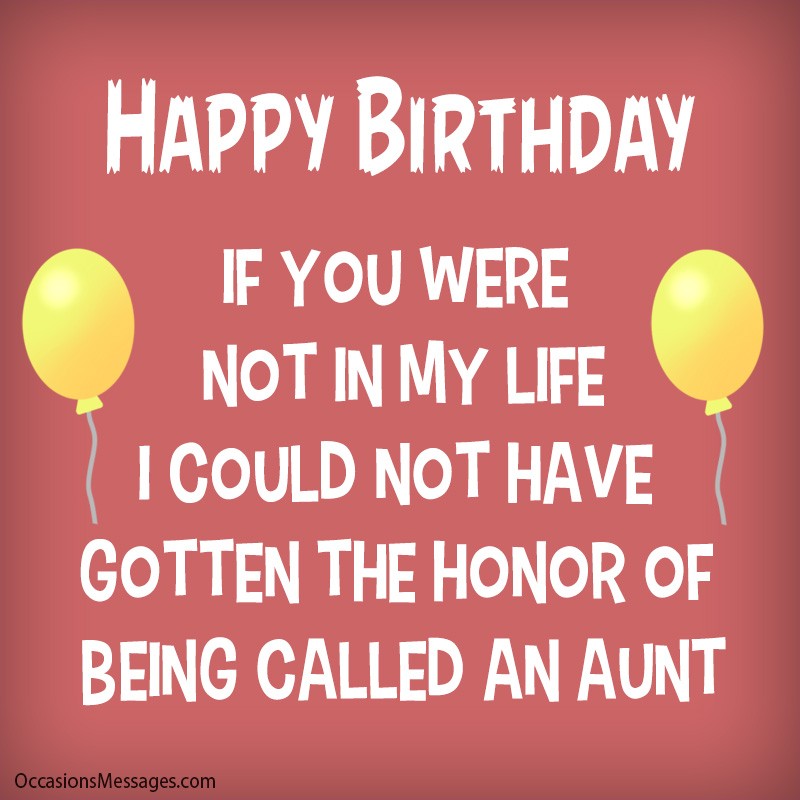 I know sometimes times might get tough, times may be unbearable, but all in all, I wish you the best of times in all you do. You are meant to conquer and you will. HBD nephew, I love you.
You are included in those people who make me laugh when I am in the sad mood. I feel very relax when you are with me. Happy Birthday, my sweetest nephew.
All of your aunts look after you especially me, because you are one of a kind and rare nephew. May you be blessed as you celebrate today.
Is there a girl in the whole world that wouldn't fall for you, even I your aunt finds it difficult to look away from you, how much more young pretty ladies.
I did my best to find a way not to spoil a rare nephew like you, but I just can't help it, you are awesome. Happy birthday cute nephew.
I love you so much my dear nephew, I am not only your aunt but your friend and confident, don't hesitate to come to me with anything my dearest, have fun.
You are the part of my sister's flesh and we share a blood relation and in this sense, you are very nearer to me. I love you so much my ever best nephew.
With the passage of time, you are getting very adorable and cheerful. I love to see the changes within you. Have a wonderful birthday, my cute nephew.
You will always be important to me, come any weather I will be there for you always. Happy birthday nephew, aunty loves you.
My dear sweet nephew, you have shown so much strength, grace and courage towards the years, as you grow older, May goodness always follow you.
You are such a lovely. And like I always do your next gift item is on the way. Happy birthday nephew. Enjoy this great year ahead of you.
You are very small indeed, but you take a lot of space in my heart. Happy birthday to you sweet nephew. From an aunt who loves you.
I always wish I could meet with you very often because there is always something to discuss about. Happy birthday handsome and intelligent nephew. From a beautiful aunt. Lol.
If there is one thing I am so sure of, it is that you'll grow to be great, you must now determine, how long it'll be by being consistent.
Today is the birthday of the most adorable child in the world. May his all dreams come true.
You made our family complete, your sweet words, mind blowing intelligence and lively acts make us ecstatic for the hours. Wish you a very happy birthday, my love, my nephew.
Happy birthday to my dearest nephew, you are growing to be a brave wise young man and I couldn't be more proud. I love you so much.
It's a special day for a special person like you my dear nephew; you deserve the finest in the world. Aunty will make you your special soup my dear.
It's your birthday; you know what that means sweet nephew, a lot of sweets and a cake with your friends. I hope you grow to be smarter, wiser and kind. You have a huge heart.
Happy birthday dear nephew, I am so glad I get to share another birthday with you. I hope you grow older than your grandpa.
You don't see greatness and potentials in everyone you look upon, I see more than that whenever I look at you, I hope you will achieve much more.
To the most handsome young man in the making, my husband is the only man that looks more handsome than you. Lol, Happy Birthday nephew. Have lots of fun.
I have planned something very special for your birthday as it is the 5th birthday of my nephew and I want to give you a scooter, which you love most.
You are as sweet as honey, as beautiful as flowers and as precious as diamonds. Wishing a very happy birthday. May all your wishes come true.
You are the most beautiful part of my world and for me, everything is that part. Happy birthday, my ever sweet nephew.
One of the best things I got in my life is you – my nephew. You are such a great little boy laden with intelligence, mischievousness, and activeness.
From the aunt that loves you, happy birthday to a great nephew, you have a whole lot of beautiful years ahead of you, don't trade it for anything.
Just because you are very special to me and it's the best chance to do something on your birthday. Happy Birthday, with loads of love and prayers.
I have lots of good and cute nephews, but amongst them all, you're my favorite, you have earned that place in my heart. I hope you'll enjoy this blessed day.
You are the reason of my smile and I really feel awesome in your company. Happy birthday my lovely nephew.
You will never cease to amaze your aunt great nephew, I was left speechless by your last semester result, you keep breaking records and I'm proud of you.
You taught me to live happy with no reason, keep busy with something, and never keep the grudge in the heart for anyone. Happy birthday, the cutest boy ever.
You are the perfect mixture of handsomeness, cleverness, intelligence, cheerfulness, and liveliness. My dear nephew, all my wishes are for you, may your dreams come true.
Your sweet broken words and fiction stories about phantoms are very interesting, I really enjoy it. Happy birthday my adorable nephew. From your dear aunt.
Your mom told me of all of your newly found passion nephew, all I can say is that keep nurturing the passion and stay blessed.
Happy Birthday my dearest nephew, you make me proud to be your aunt each and every day and I hope you enjoy your birthday to the fullest.
I have seen you grow into the man you are today and I couldn't be any prouder, you make me happy and I am glad to be part of this day as your aunt.
Have a great and unforgettable birthday my dear nephew, you are more to me than just a boy. I am glad I get to be here as you grow into a fine young adult. I love you.
I am happy that I will get a chance to spoil you once more on your birthday; I appreciate you for giving me a chance of being an aunt to a fantastic nephew.
You are a blessing to your generation, and I am glad to play the role of an aunt to such a talented nephew, your birthday makes me happy in ways that I cannot explain.
If it were not for you, I would not be an aunt so I have lots of gifts, chocolates, and candies for my sidekick nephew's birthday. Today is going to be great.
Happy Birthday, nephew may today's feat be the beginning of wonders in your life. Celebrate with a thankful body, spirit, and soul for you have received mercy.
You are my nephew but also like a son to me; it's hard to separate us because we bond naturally. It's your birthday, so we have to celebrate; I planned a party for you.
Congratulations nephew for adding another year, I knew from the very moment your parent bore you that you will make me the proudest aunty, and you did.
If anyone asks why you are super-excited for your birthday, tell him or her that your aunt said she would provide everything in excess because I have been a good boy.
You May Also Like:
Great List of Birthday Wishes for Nephew – Find the Perfect Message
10th Birthday Wishes and Messages – Cute and sweet Wishes
Birthday Wishes for Son from mother – Lots of ways to Say Happy Birthday