I don't know why women love their birthdays as much as they do, I mean you are growing older beautiful not younger. I guess age makes you feel more experience, like wine, the older it gets the finer it becomes, that is definitely a phrase made for women.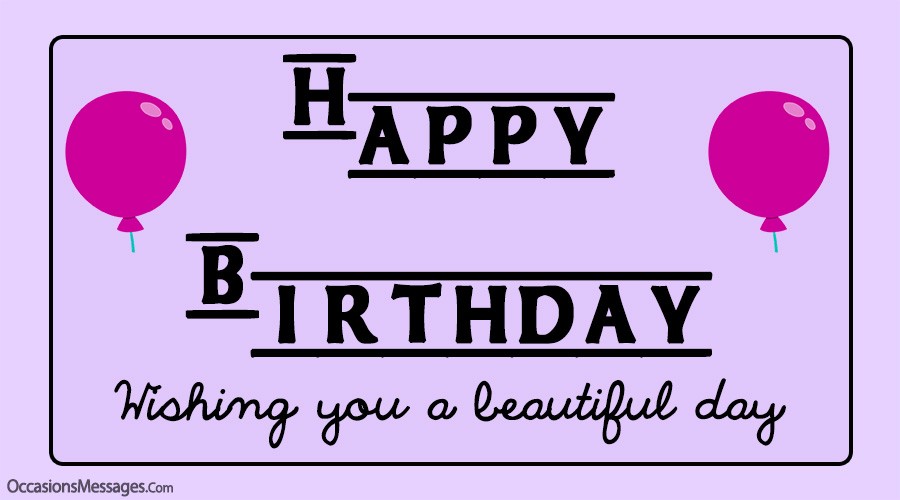 The older a woman gets the more beautiful she becomes not because of her pain or the joys of her life, but because she is who she is and she realizes that more with age. Below are some birthday wishes you can send to a woman who deserves to be reminded of her importance, of her grace and of her beauty. Share one and put a smile on her face as she turns a year older.
Cute Birthday Messages for a Lady
I often don't tell you this, but you are an amazing lady and I am happy to be here to see you turn another year older. Enjoy your birthday beautiful!
You are graceful, sweet, amazing and a woman I will forever look up to. Enjoy your birthday and may all your wishes come true.
It's a new age, with new things, be the kind of woman I know you are. May this birthday open unclose able doors for you dear!
Ladies have the spirit of seeing things through to the end. You are one of such; may your passion never die out. Have a fulfilling birthday. I love you
Your spirit shall be enlightened with love. Welcome to a new phase in your life. Happy birthday dear friend. You are loved to the moon and back repeatedly.
Being a woman is easy, being a strong woman is admirable but being a leader as a woman is something I definitely look up to. Hearty birthday boss lady, you're amazing!
I am blessed to know a lady as sophisticated and as steady as you. Enjoy your birthday madam boss; you deserve the finest things in life!
Never be afraid to go after what you want, you deserve the best and only the best. Enjoy your birthday beautiful, you are loved!
Your love shall flow from the fountain of peace you have within. Many blessings await you in this new age. Happy Birthday, love.
Whenever I am complimented on being smart, I see you always in me. God has made you a precious jewel. Happy Birthday to you amazing lady like no other.
I have been with you through the hard times and you have always emerged as a stronger woman. Enjoy your birthday and may you beat all your struggles.
Having you in my life is a lesson that is both unforgettable and beneficial. I love you for the woman you are. Have a hearty birthday and may you live long!
You are not only be beautiful within you are beautiful outside, you are one of the most amazing woman I've met and am blessed to be sharing your birthday with you.
The motivation and peace that you portray are enough to encourage someone to live on. Your life has constantly been a blessing. Happy Birthday, love.
Your eyes shall continue to behold beautiful and precious things all the days of your life. Happy Birthday, lovely and amazing lady.
I love you so much dear, you make my heart stop and I know you are a woman I never want to replace. Enjoy your birthday!
May this birthday give you joy, peace, more love and lots of presents my fair lady. You are special to me and I am glad to be growing old with you!
As you lit new sets of candles for your anniversary, so shall you continue to enjoy the bliss that comes along with being enlightened. May all your wish come true.
As you enter another phase in life's journey, so shall your life's journey be blessed with a greater input of his divine blessings and grace.
Have a happy birthday my dear, you are a woman worth more than you think. I hope everything works out for you today and always.
Have a glorious birthday beautiful, you make me so happy and I hope you grow old enough to see your children's children.
May you grow to be a fantastic grandma, an awesome mom and the woman who'll run the world someday, enjoy your birthday beautiful?
Blessings shall encompass your life down to the very detail of your breath. You will never lack any helper in life's journey. Happy Birthday, lady. Have a blast.
Life is a bed of roses for you; your rose shall glow in perfect grace and bring illumination to those who live around you. Happy Born day dear lady.
As you add a candle to your celebration each year, so shall your blessings soar to higher grace. Amen. Happy Birthday, dear lady.
Wishes are the spices that help creates a beautiful feel on a particular day like this. All your dreams shall come to pass as you celebrate today. I love you and wish you well.
Each birthday I get to celebrate you is a blessing. Enjoy each day that comes and may each birthday give you more reasons to live.
I wish you the best as you celebrate your birthday my dear, enjoy each birthday with style. Have a beautiful day darling.
You have been life support for me so shall you find people who will hold you in time when you need them. Happy Birthday to you dear lady. I love you.
Your love and smile will continue to glow so brightly. You are an epitome of grace and truth; you shall never lack grace in your new age. Have a nice day, sister.
Happy Birthday to a special one, a lady I hold so dear and who has been life support. You shall never lack help; great grace is upon you and your life. Have a beautiful day.
You have been a great friend, as you celebrate this day of greatness, my heart rejoices with you and wish you the best that life has to offer.
You grow older, finer, more intelligent and a woman I would love to get to know more. Enjoy your birthday beautiful. It's your day!
May this birthday shower you with love, joy, and peace that surpass any other. Enjoy your birthday and all the good it will bring dear. You deserve the best!
Your beauty transcends your appearance. I love your spirit, character, and attitude. You shall continue to soar in all of life's goal.
Wishing you a happy birthday, all your dreams will come to pass as you move along in life. Grand visions await you as you achieve more milestones in life.
Birthdays are days of joy and celebration. For you, this celebration will never end. It will flow continuously until the end of time.
To have someone strong as you, spirited, lovely and cheerful is a blessing. As much as you have been a blessing to me, so shall you meet persons who will bless you greatly.
Birthdays are exciting. They are the days we celebrate giants like you. God shall continue to bless and protect you along life's journey.
Happy Birthday to my one and only cutie, who would I belong to other than you. Living with your promises delights my heart so much. I cherish you so much.
Nothing compares to the love of a woman, especially the love of a woman who you love so much. I'm glad to be the love of your life. Happy Birthday to my cute lady. Stay blessed.
---
You May Also Like:
35th Birthday Messages | Happy 35th Birthday Wishes
Happy Birthday Neighbor | Birthday Messages for Neighbor
---