If your grandma is alive and well, then you need to be thankful for her life because some people don't have grandmothers to be thankful for. Having a grandmother in your life can be one of the most blessed things you can ever experience. A grandmother is someone who teaches you, guides you and advices you on the most unusual problems.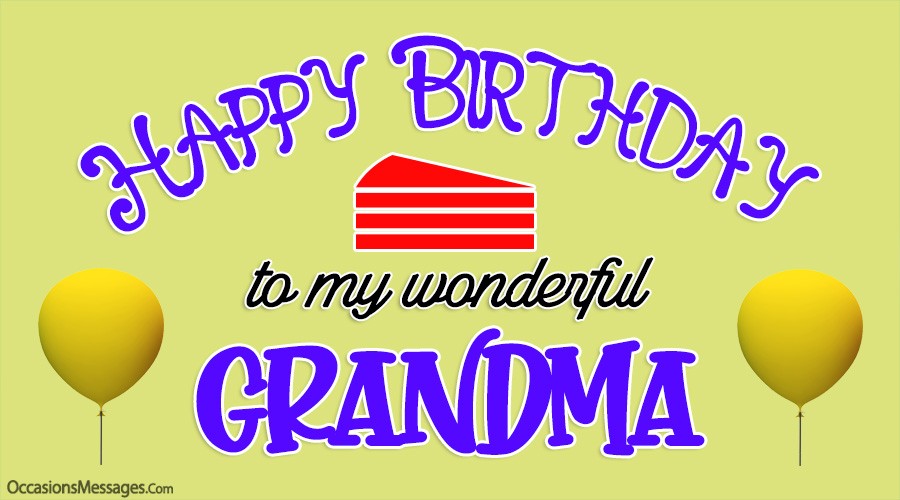 Appreciate your grandmother on her birthday by sending her one of the messages here below. Any granddaughter is happy to see her grandmother smile for a deed she did wholeheartedly and with her in mind. Don't be shy to look through, you might find a perfect message that suits your grandmother. Here they are.
Birthday Messages for Grandma from Granddaughter
I am a blessed woman because I get to see my grandmother age and wrinkle. Have a blessed birthday, I love you!
You have always been there for me and I appreciate you for that. Thank you for making me the woman I am today. Have a Happy Birthday grandma!
I will always be your little girl grandma, you have showered me with so much love and happiness and I hope repay you today on your birthday. Enjoy!
Each moment with you is a blessing grandma, and I am definitely the luckiest girl in the world for I have you in my life. Have a grand birthday!
You deserve the best of everything grandma, for you are not only a selfless woman; you are a woman I aspire to be. Have a great birthday!
You create in me a new and loving heart each time grandma, and I know I am a blessed woman to have you. May you live to blow a million candles!
Each time I think of you, only kind and generous words come to mind. Thank you for being someone I can look up to. I love you grandma, have a fantastic birthday!
The world would be a better place if everyone was as loving as my grandma. Have a hearty birthday; you are part of the woman I grew up to be.
I sometimes miss you so much, your presence is always appreciated and acknowledge. I hope we can celebrate the grandma you are today. Enjoy your birthday!
I am the happiest woman in the world because I get to share in my grandma's birthday. You are someone worth each and every diamond and gold. Enjoy!
Women like my grandmother should be loved and appreciated, that is why I am proud to be your granddaughter. Have an awesome birthday!
May this birthday bring only good memories, may it make you smile and may it make you a proud grandma. Have a blast!
Each day with you grandma is a blessing, and each birthday is a gift perfectly wrapped. I thank the heavens I am your granddaughter each day. I love you!
You are a woman I look up to grandma, for you love and care with a pure heart. May you live to outlive us all. Have a great birthday!
Happy Birthday to the woman I want to be when I grow old, I wish someday I can be a great grandma like you. Enjoy your birthday!
I would like to appreciate you for all the presents, sweets and all the good memories you fill my mind with. Have an amazing birthday grandma!
May this birthday be as happy as you are grandma; there is not a day that goes by that I am not thankful for being your granddaughter. Enjoy your day!
Each birthday with my grandma is a blessing that I am always thankful for it. Enjoy your birthday grandma; you make me proud to be a woman!
Your integrity, uprightness, and long-suffering distinct you from amongst grandmas, therefore I am proud to be your granddaughter. I wish you many fruitful and marvelous years.
I love my grandma to the extent of doing whatever will make her happy on her birthday. You always told me love is all we need. My love for you exceeds that of a granddaughter, it is divine.
Joy and excitement fill the air; your birthday brings such aura and excitement to family and friends. Your favorite granddaughter wishes her incredible grandma a happy birthday celebration.
Birthdays are meant to be special, so I am thinking of a thousand ways to make yours outstanding. I consider myself a lucky granddaughter to have a grandma of your standard.
I am into you this much because you are both my role model and grandma. As a granddaughter, I have earned the right to organize your birthday party.
Nobody has the permission to take your shine for the next 24 hours. Let us celebrate your birthday the women way, I mean in a grandma and granddaughters manner.
You are a versatile woman and grandma who has proven a woman can equal a man in various endeavors. I am happy to be associated with you as a granddaughter. Happy Birthday.
Happy Birthday to my superhero grandma, you have saved your granddaughter from numerous troubles and misdeeds associated with youths. I love and cherish you.
From the deepest part of my heart, I wish you many more years of the living because I am your granddaughter and you are a blessing to this world. Happy Birthday, grandma.
If there were to be a pageant for grandmas and granddaughters, I am definitely sure we will win.  Irrespective of your new age, you look as beautiful as a youngster does.
I love you more than the love of monkeys for bananas, dogs for bone and granddaughters towards their grandmas.  I wish a happy birthday to my favorite female figure of all time.
I am in high spirit for your birthday, I treasure every grandma and granddaughter moment we have shared. Today will be another unforgettable experience for us.
Free food and drinks make birthdays worthwhile, nevertheless, it's most important purpose is to appreciate and show love to the celebrant. Any woman would not have wished for another grandma.
Congratulations to you as you are a year older today. May your old age be in good health and prosperity?  I never knew a grandma could be this integral to a granddaughter.
The level of kindness and concern you show toward others is exemplary; therefore, I want to be like my grandma when I am older.  Enjoy a grand birthday because your granddaughter loves you the most.
You have achieved a milestone with your new age, and I am very proud of your achievement because I am your granddaughter. Happy Birthday to you.
My grandma is the sun that brightens up my feminine heart, and I will always celebrate your birthday like it's mine, we will be having so much fun together, and I am looking forward today's activities.
Being old is not a big deal; how one spends his life that counts, the most because age is mere numbers.  My grandma has lived happily and a cheerful granddaughter as me is a proof.
Cheers to the best grandma on her birthday, you status exceed both living and dead grandmas. Happy birthday to you and I will always sing your praise.
There you are, the princess of the kingdom of the most charming people in the whole world. It's impossible not to adore you and be in awe of your beauty. Have a beautiful birthday.
Permit me to send my birthday wishes to you through this medium; I wish your life were as important as you are to me. You are irreplaceable.
There is little need to hide under makeup on your birthday because we all know your real age but will pretend to make you happy.
Nobody should steal your shine because today is your birthday and it must be all about you. Have a very happy birthday grandma.
---
You May Also Like:
Cool Birthday Wishes for Super Grandmother
Happy 90th Birthday – Birthday Wishes for 90 Year Olds
---