Like father like son, that's what they say and those words surely do carry some weight. I know each son has a man they look up to; most of these men being their dads. Sending a birthday wish to your dad can be one of the most awesome things for him. Each parent wants to be appreciated and loved especially the father since almost everyone would say they love their mom more.
Don't forget your dad as he celebrates another year of his life, send him a birthday message on his special day and make some memories that will last forever with him on that special day, we don't choose our parents but I am sure they try their hardest to see us smile. Here are some messages you can send to your dad.
Happy Birthday Messages Father from Son
Having you as a father is the best things I have, I hope someday I will be a father as great as you to my son. Enjoy your birthday dad.
Have the happiest birthday dad; looking up to you makes me one of the luckiest sons alive for I know I have a great role model.
The word love is an understatement to tell of how fatherly you have been to me. Happy Birthday to you special dad. I adore you till old age. Enjoy your special day.
Happy Birthday father, you have imparted and influence me with your personal life. I don't know if I'll be a good man without you. May God bless you with perfect health.
You have your flaws dad, but with those flows you molded me into the man I am today, and I owe you that. Enjoy your birthday, may your desires be met.
I have a father who is great, who teaches me what a man should be and who makes me happy for all his kind deeds and gestures. Enjoy your birthday.
It means so much to me to see the availability of my father every time I need him, a lot of my mate don't have that privilege. Happy Birthday ever present father. Love you.
You already know how much you're loved by everyone of us in this family, but today us your glorious day and we appreciate God for your life. Happy Birthday father.
A boy's best friend is definitely the father, I respect and love you dad, have the best birthday today, you mean the world to me.
I am thankful that I have a father such as you; you make me the luckiest son in the world for I know I was born off a strong and admired man. Have an unforgettable birthday.
It is so easy to feel safe, loved and at home with you. Happy birthday to you ever loving dad. May this day gladden your heart so much. Happy Birthday dad.
Daddies are their child's first super hero; you have never stopped being my own superhero even at your old age. Happy Birthday to you great dad. God bless your new year.
I would be nothing without you dad, I hope you know how much I love and appreciate you have the most fun on your birthday maybe I'll learn a trick or two from you old man.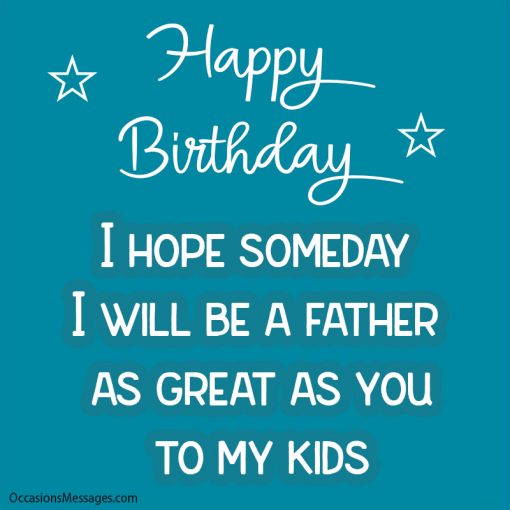 We look so much alike and I now only want that, I want to be the man you are someday. I wish you the best birthday dad, you are my inspiration.
The caring father and the best free giver I've ever seen, may your life keep being a joyfully lived one. Happy Birthday Dear Father. Be blessed on this special occasion.
Happy Birthday to a father who has integrity at all levels and he keeps showing it. You are the perfect example to follow. Enjoy your special day sweet dad. Love you so much.
I wouldn't trade you for the world dad, I am part of you and you are the biggest part of me. I am proud to be your son, have a fantastic birthday old man.
You are my protector that I can count on dad, as a little boy I used to be scared of the monsters under my bed but I bet they were more scared of you. Have the greatest birthday.
It's truly your special day, but the day become more exciting when shared with family. I'm glad to be sharing this day with you special dad. Enjoy your special day.
Happy Birthday good dad, our mother looks really beautiful but you look extremely beautiful and thank you for passing onto us the beauty in your eyes. Have lots of fun.
I love you for the man you made me become, I owe you all I have dad, I thank God for another year with you, enjoy your birthday to the fullest.
I can never imagine a world without you dad, you are my lifeline and I appreciate you. Thank you for making me the man everyone loves and respects, may your birthday put a smile on your face.
You taught me to play dead to catch fun, but I did it even to you and you thought it was real. Hehehehe. I had a lot of fun that day. Happy Birthday dad.
I really love you as my superhero when you were with a macho man look, but now potbelly has taken over. You're still my Dad but not my superhero again. Hehehehehehe. Happy Birthday dad.
Your love and nature are something that I really can't do without; I don't wish to live far away from you. Happy Birthday dad.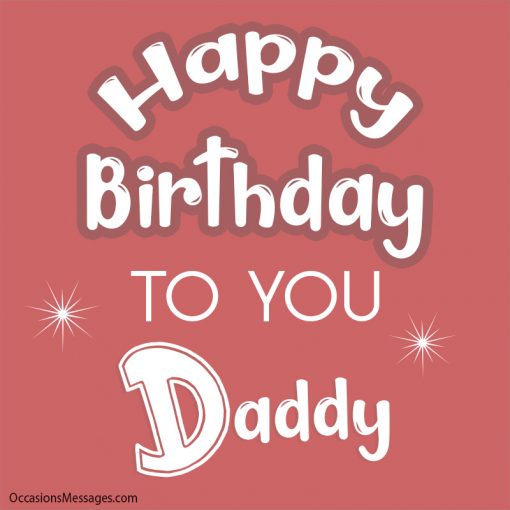 Having you alive till today is a great blessing to the entire family even with the number of your years, we really hope there'll be many more years for you on earth. Happy Birthday dad.
You will never know if you can do it until you at least try. These words of yours help me to try new stuffs. Happy Birthday to you special dad. Love you too much.
If asked, I am my father's son, you never have to worry, for I will always do right by you, have the most amazing birthday yet, may all your dreams and desires come to pass.
You deserve to own the world on this glorious day of yours. I hope you will find whatever you seek and own whatever you desire. Happy Birthday to you.
Thank you for being the one I can run to, the one who protects me and for being the man who raised a man. Have a hearty birthday dad, may your breath not run out as you blow the candles.
I will doubt it if someone says there is something your dad doesn't know, because you always provide answers to almost every question. Happy Birthday wise dad. Love you to the Pluto and back.
We really need to have some time set aside to enjoy the Father and son relationship that I've missed. May your joy become full today dad. Happy Birthday great dad. Enjoy your special day.
The way you support and question our decisions whether they are right is the best thing I've ever seen. We know what to do even without you interfering. Happy Birthday to you lovely dad.
You have transferred a lot of joy to us; we just hope that you will receive much more than you have given to the people around you. Have a beautiful day.
It'll be really difficult to leave this house when it's time to get married, you've never made me feel like there's need to leave. Happy Birthday dad. I won't like to leave you at all.
If there is someone who deserves to be the happiest man in the world, it is you dad. You've served us and we hope you'll have lots of joy in return. Happy Birthday dad.
A dad who is so graceful and perfect in all areas. I never have the need to go outside for any word of advice because you virtually know everything. Happy Birthday vast dad.
In your presence there are a lot of things, but most importantly there is laughter, fun and knowledge. No person can ever be compared to you dad. Happy Birthday father.
Happy Birthday father, your good nature and your well lived life had long been transferred unto us your children since the infant stage. Thank you for the precious values transferred unto us.
---
You May Also Like:
The Best Ways to Say Happy Birthday Dad With Love
Unique 40th Birthday Wishes – Birthday Messages for 40 Year Olds
---